Topics Covered
Introduction to SMS

Safety Risk Management

Human Factors Safety Training

Safety Policy
Delivery
Online

Live Webinar

Classroom Training

Custom Program
Safety Management: From the C-Suites to the Front Line
Here's an insight we'd like you to think about.  "Safety Management System" is a noun, you know a person, place or thing.  "Safety Management" is a verb, and verbs are about action.  Convergent Safety Management programs are action-oriented and developed for all levels of your organization, from the "C-Suites to the front line." Every program, keynote, poster, webinar, or blended learning solution we provide is intentionally designed to get your safety program moving.
21

st

Century Safety Management: Introducing SMS 2.0
The four pillars SMS concept was originally developed by James Stewart for Transport Canada in 2000. For the past 20 years, it has slowly spread around the globe but hasn't changed much from its origins. In contrast, in the first twenty years of another aviation safety program – Crew Resource Management (CRM) – it had already gone through five generations of improvement. That got us to thinking about an evolved SMS Model – but don't worry – it still meets all the requirements of the auditors, who haven't caught up with our innovations just yet!
In the new model below, note the foundations of culture awareness and alignment, employee engagement and hazard identification, as well as the new pillar of safety training, and of course, we moved the former pillar of risk management to its rightful place as the capstone of all the other pieces of the SMS architecture.
Nothing lost and much gained. So, if you are ready to upgrade your SMS to the 21st century, check out our consulting and training to help you shift your SMS into high gear.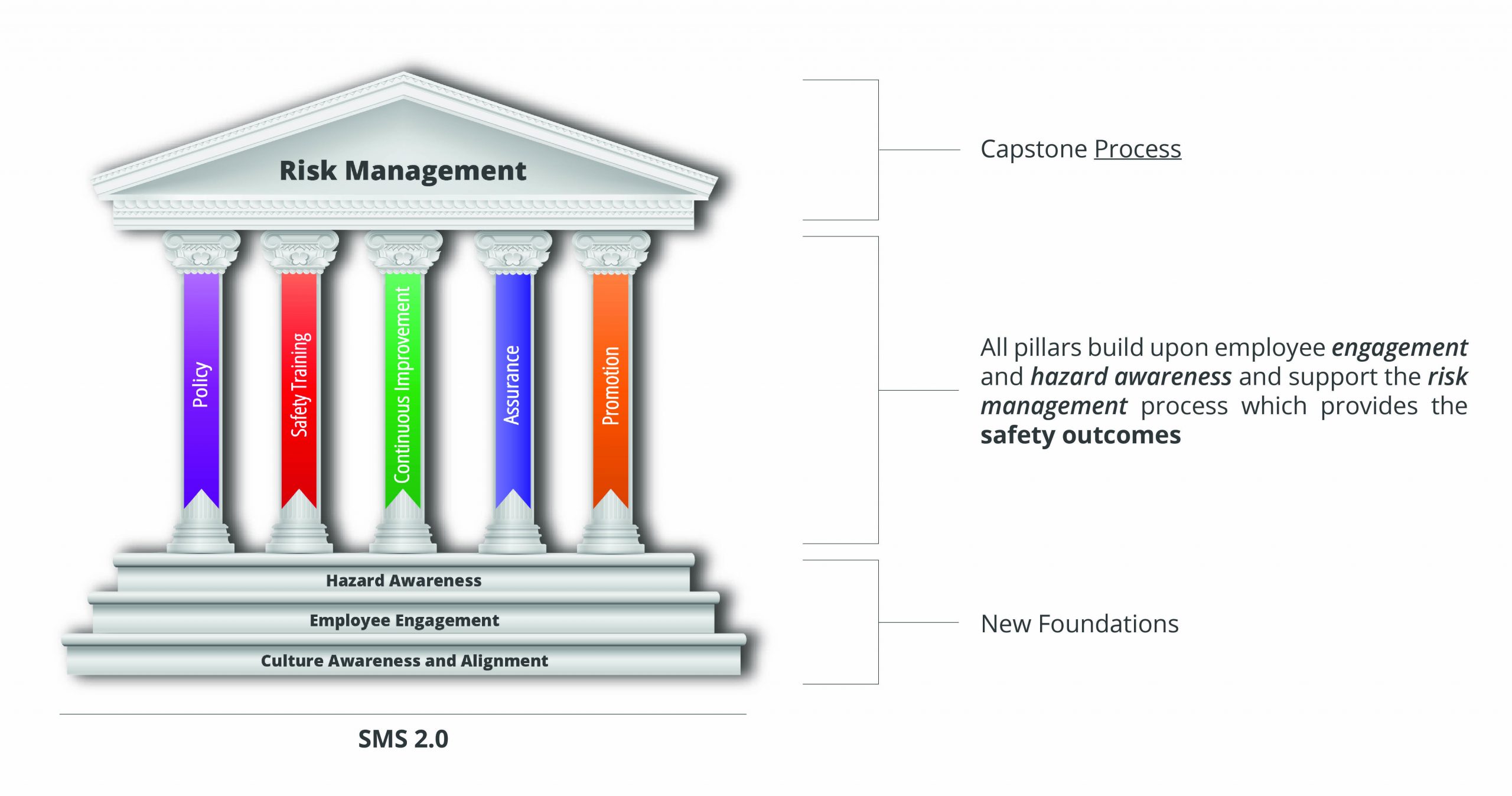 Centurion Scholastic SMS
This program is perfect for schools of any level (elementary through university). You will receive training for campus safety managers, consulting on the process of risk management (RM) and RM strategies, and a software solution for tracking risks from awareness through mitigation, to proactively predict and prevent incidents and accidents. 
Our safety management training starts with the foundational elements of an SMS, but also transforms your culture to one that prioritizes safety knowledge, attitudes, behaviors, and outcomes (KABO model). It also focuses on intuitive predictive analysis, by emphasizing risk management at the individual level and empowered accountability to close the gap between your organization's current standards of performance and your true untapped potential. 
Contact us to find out how we can customize this program for you.